As an artist's co-op, Uptown Gallery allows each visitor to experience the artwork and the artists who created it. The gallery's unique feature is that it is staffed by the artists themselves. Each time you visit the gallery you will have the rare opportunity to meet one of the artists whose work is shown here. The gallery has more than 30 outstanding artists, with work in a varied palette of media and techniques.
Hours
11 AM to 5 PM Wednesday through Friday
11 AM to 4 PM on Saturdays.

First Fridays
Uptown Gallery is open the first Friday of every month 5pm - 8:30pm. During the first Friday opening light refreshments are served.
Reception will be on Friday March 2nd, from 5 to 8:30 P.M.
Coming Attraction

Faces Beyond Portraits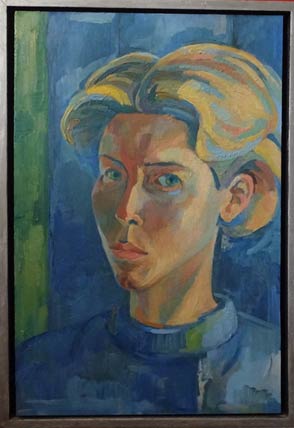 Blue Reflection by Katharina Bergdoll
An Exhibition of Art
Friday, April 6 - Saturday, May 26, 2018
Uptown Gallery
1305 West Main Street, Richmond, VA 23220

The human face has long been used by artists to express more than a portrait, for example "The Scream" by Edvard Munch, or "Head VI" by Francis Bacon.

Exhibition to be judged by Christopher Oliver, Assistant Curator of American Art, Virginia Museum of Fine Arts

First Friday Opening April 6, 5-8:30 PM
24 Artists will present 33 Works
Galleries

MAIN GALLERY & FRABLE GALLERY
New Exhibits
As Nature begins to awaken for the Spring, Uptown Gallery features the work of award-winning abstract artist Pat Angevine in an exhibit called "Captivated". Appropriately for the season, Angevine celebrates our connection with nature. The exhibit was launched by an encounter with a particularly handsome black snake. Says Angevine, "It was love at first sight. I was captivated by his beauty and told him so, which caused him to preen, to the point that the ranger began laughing at our mutual admiration society. She offered me a bit of skin which she had seen him shed and I accepted it with delight as I reluctantly left my new friend." That experience and the beauty of his skin were the inspiration for a series of paintings representing different aspects of the snake's life, and also the interrelationship of his life with ours, both physically and symbolically. Her exhibit is accompanied by the work of about twenty other Uptown members. Though not as enthused about that snake as she, they are all expert at sharing their own experiences through their art.

In the Frable space, the Virginia Collage Society exhibit is "Exploring Imagination in Collage". Picasso believed collage, of all the media, set artists free, allowing them to use their imagination instead of well-established methods. In this show, VCS members have free rein in subject matter and style, with color and diversity as the happy result.

The opening reception will be Friday March 2, from 5 to 8:30 P.M.
The exhibits run from Feb. 28 through April 28, 2018.

Go to the Main & Frable Gallery ELM GALLERY
Continuing Exhibits
Uptown Gallery continues its exploration of color in its fifth judged color exhibit, "Passion for Purple". Judged by artist and teacher Elizabeth Eubanks, the exhibit is open to any Richmond artist who exploits the special qualities of the color violet to make the art sing. What better color to highlight with Spring just around the corner? But flowers are not the only thing that the color violet is associated with. Expressions like "purple passion", "purple prose" and "purple people eaters" convey different connotations of the color. Is violet the color of passion? Is it always flowery? Why do we associate it with strangeness? Each artist will reveal his own unique interpretation. The exhibit will include photographs, drawings, paintings and three-dimensional works, with interpretations even more varied than the media. The show's judge, Elizabeth Eubanks, is an award-winning artist and an inspired teacher. She will judge which works make best use of the color purple, and will award prizes and ribbons during her gallery talk at 6:30 PM on Friday, February 2nd, during the opening reception. Originally from rural Pennsylvania, she earned her fine arts degree from the Art Institute of Pittsburgh and works in watercolor, oil, acrylic and pastel. She began painting professionally over 20 years ago and currently lives in Williamsburg and teaches multiple media in Richmond. The exhibit runs through March 31, 2018.

A reception will be held Friday, March 2, from 5 to 8:30 pm.

Go to the ELM Gallery

Driving Directions
Click for Driving Directions. Free parking is available when you visit Uptown Gallery. You may park in the parking lot at the corner of Randolph and Main Streets. There is an entrance on Randolph Street.


Click Facebook logo to follow Uptown Gallery on Facebook
---
© Uptown Gallery - All Rights Reserved
1305 West Main Street, Richmond VA 23220
Telephone 804-353-8343
info@UptownGalleryRichmond.com